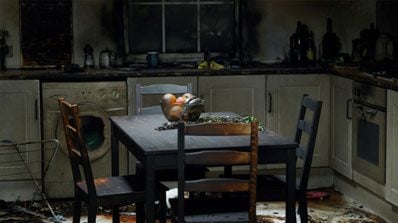 Introduction to Fire Damage Remediation
The fire damage remediation process is about assessing the property, starting with removal of all debris including furniture, doors, un-repairables, and any damaged portions of the home that are complete losses. The next step is the cleaning of chemicals left from fire crews, cleaning of any hazards left from appliances that were destroyed in the fire, and possibly more in depth cleaning depending on who you contract to do the work.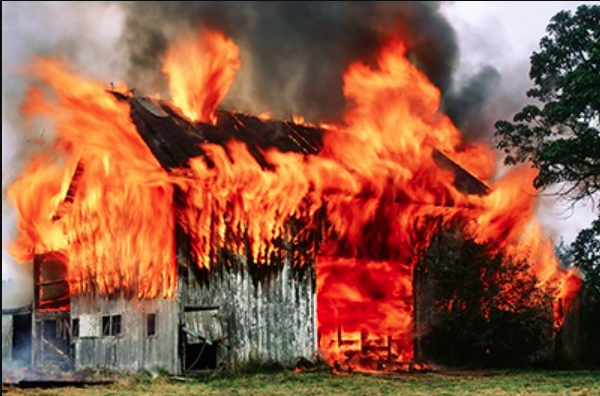 What is the Meaning of Fire Remediation?
Fire Damage Remediation is often included in the definition of fire restoration process, but in fact,  some fire remediation companies do not do fire restoration work. The meaning of fire damage remediation is handling cleanup and debris removal, but not including anything from the fire restoration process.
Often, other problems will be created from the work done putting out the fire. For example, the water used causes damages, often flood remediation, and even mold remediation will be needed. This is partially why a remediation company can be vital to a project, and also why another restoration company may be called in for later work. Be sure to make sure what parts of the work will be covered in your contract for any part of the fire restoration project. Orange Restoration is a full service restoration company with remediation experts for fire, mold, and water damages.
Fire Damage Remediation Safety Considerations
Safety should always be a top priority in any fire damage situation. Emphasizing this is critical to prevent further harm or damages to your property. We do not recommend doing your own fire restoration, but we do have some resources for how to use cleaners and proper use of PPE on our various blogs. If you have a small project, please take a look at our DIY Soot Cleaning article, there are lots of pointers there that can help for smaller projects. Also, make sure before dealing with any fire damage that you understand the threats associated with Ultrafine Particulates (UFPs) that can come from fires, fire crews, or smoke damages.
Hiring Fire Damage Remediation Professionals

 
It's vital to stress the importance of hiring reputable professionals for fire damage remediation and restoration to ensure a successful outcome of returning your home to normal. While we constantly steer homeowners away from doing any of this without a professional, we understand you want your home back. Hiring our team will be the quickest way to get your project through all the insurance, the process of cleaning, and restoring your property to a new beginning. 
Fire Damage Assessment and Damage Extent
The fire damage assessment and the extent of the damage is very important for managing timelines, expectations, and costs. Each fire is sporadically created differently, and in how it causes damages, and the various conditions make each fire damage work site unique. Many times, fire damage work sites will have hidden surprises. Some surprises might be flooded compartments due to fire sprinkler malfunctions. There are also project examples where sprinklers worked well to preserve the interior of the home. In this case, all the exterior looks horrible, and water damage restoration needs to be done internally, while most of the fire restoration is external to the home.
Getting an assessment of the state of the property and the extent of the damage is important. In some cases, for the safety of the property, you may need to consider getting board up services. Board up services can protect your home from further damages, liabilities and from unwanted intruders. Part of the assessment should consider future risks of liabilities, more loss, more damage, and how to protect professionals or anyone else who may need to access the property. 
Hiring restoration professionals will really help to speed up all this process. Our team has completed many projects of all sizes, from small fire restoration jobs to responding to wildfires with extensive damage for multiple homes. We know how to assess, avoid surprises as we know the process, and the costs for managing the fire damage restoration from all aspects. Our team can look at a section of damage and make quick and accurate assessments for damage repairs.
Frequently, smoke damage has a way of exaggerating the appearance of things. Our professionals can assess the depth of the damage and make educated assessments on if the repair costs outweigh the costs of replacing. You can look at our extensive list of fire damage and smoke damage restoration services on our fire damage services page.
Documentation and Costs Associated with Fire Damage Remediation
Orange Restoration is known for the quality level of documentation and photography of the damages and work in progress. Also, we handle multiple trades, so when we need documentation from a plumber, electrician, or flood mitigation, we handle all these services! So our clients can expect all files, documents, notes, and photos to be in the right format, organized professionally, and expedited to the insurance company for their assessors. We want you to get paid by insurance ASAP! 
Over the 20+ years of service, we modified our business and created partnerships to make sure we act as a solid support for your life being rapidly restored to normal as soon as humanly possible. Along the way through the restoration process we will work to be transparent via clear documentation, photos, plans and financial needs for completion. Our team is known for this transparency with both insurance and local customer base. We are 5 stars rating on nearly every platform including Google, Yelp, BBB, and also Facebook.
Timelines and Expectations for Repairs
After professional assessment, our team will provide information on when it's safe to return and the variability in restoration timeline. We understand, getting the information on the timeline is important for those dealing with fire damage. Your insurance company, our team, your family, your work and neighbors will probably all be asking far too many questions, and you may only have one. 
"When Will My Home Be Normal Again?"
We truly understand that waiting for answers, getting different answers, and unclear outlines for the process of restoring your home can be frustrating. The timeline on a project may be a little complex for other companies to assess, this is often because they need to count on multiple contractors to do various things, and they need to wait. While our team may not have perfect accuracy in our timelines, we will be able to more rapidly assess the timeline.
Our team does absolutely everything needed for the fire damage restoration process while having multiple vendors in-house which speeds up the process. We are prepared to get it done quicker than any other restoration company because of our partnerships and continued education in our trade services.
Complete Home Restoration
While the initial steps of fire damage remediation are crucial for cleaning up and securing your property, it's essential to recognize that comprehensive home restoration goes beyond these initial measures. Fire damage remediation focuses on removing debris, cleaning chemicals, and addressing immediate hazards, but it often doesn't cover the broader scope of restoring your home to its pre-fire condition. Additional challenges may arise from the aftermath, such as water damages and air quality issues such as the presence of ultrafine particles (UFPs), necessitating the specialized attention and expertise of a pro.
To ensure a successful and expedited recovery process, it's vital to hire experienced professionals who can handle the entire spectrum of fire damage restoration work. This comprehensive approach considers assessment, mitigation of hidden surprises, board-up services, and expert documentation, all of which contribute to a more transparent and efficient process. 
Our team at Orange Restoration is well-equipped to provide you with a holistic solution, not just for fire damage remediation but for complete home restoration! Offering clarity on timelines and expectations while maintaining a focus on safety and quality work. Our commitment to transparency, extensive documentation, and partnerships ensures that your life can be restored to normal as quickly as possible, backed by our track record of 5-star ratings and customer satisfaction. 
Restoring your home after a fire is not just about addressing the visible damage but also about returning your life to a state of normalcy, and that's precisely what our team is here to help you achieve.
https://orange-restoration.com/wp-content/uploads/2017/10/smoke-damage-repair-cleaning-tips.jpg
223
398
Orange
https://orange-restoration.com/wp-content/uploads/2022/02/new-logo-final-1-1030x842.png
Orange
2023-11-07 15:48:43
2023-11-07 15:48:43
Fire Damage Remediation