What Should You Do If You Have Wet Drywall?
When a home experiences water damage, one of the most common problems to arise from it is drywall damage. When drywall gets too wet, it can become discolored and start to bubble. Some people refer to these affected drywall areas as wet spots. They are not hard to miss because they reveal themselves quite well. Once you have damaged drywall, it can become permanent if you wait too long to intervene.
The two biggest threats to wet drywall are black mold and structural damage. Mold spores in your drywall can be toxic to those in the room who breathe in the air. If left uncleaned, these mold spores can weaken your immune system and potentially cause death. As for the structural damage, that can make living in your home a potential hazard too. Therefore, you must attempt to fix this drywall issue before it escalates into a huge problem.
Remove the Water
If a leaky pipe or weather-causing flood is the reason for your wet drywall, then you must first remove the water from your home. Fix any broken or leaky pipes which have caused the water damage. Your goal is to ensure that water will not be a problem again for your drywall.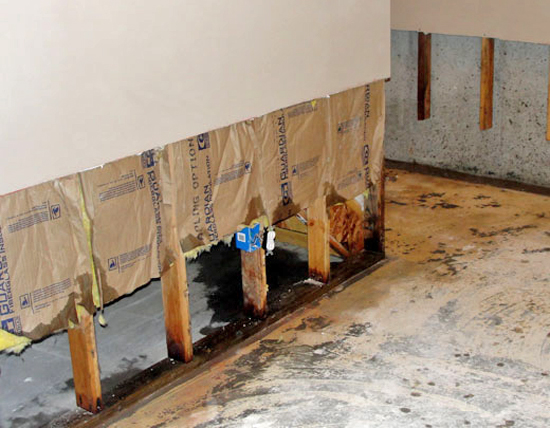 Remove Wet Drywall
There are multiple drywall layers. The normal rule is that if you have wet drywall for over 48 hours, then it needs to be removed and replaced immediately. Wet insulation should be removed also. But these are tasks that you should not be done on your own. They require the skill of a professional drywall contractor. If you already notice a lot of mold on the drywall, you may need to call a mold damage specialist first. Otherwise, if you were to remove the moldy drywall yourself, it could send lots of mold spores into the air and cause even more health problems for people.
Dry Out the Air
You'll want to be sure the air is dry. Keep a few fans blowing constantly on the affected area of the wall. Meanwhile, have a dehumidifier running in the room too. This should prevent any existing mold spores from spreading even further. You may want to keep these machines running for a day just to be safe.
Install New Drywall
New drywall will obviously need to replace the old drywall that was removed. Just be sure the contractors install a waterproof alternative to what you had before. Some contractors may install a drain system around the perimeter or a sump pump to prevent future water build up.
Orange Restoration Wrap Up
Call Orange Restoration ASAP if you have experienced any water damage in your home or business! Orange Restoration has fixed 100,000s of wet drywall cases in residential or commercial settings! It is incredibly important you take care of the damage right away or else it could lead to other issues like mold growth and mold damage! 619-376-6838